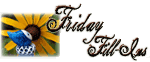 1. When I looked out the window this morning
stillness was clear through the haze
.
2.
The fact that one of my favorite soap operas, One Life to Live, will be having its final episode today, despite the fact that fans are very vocal about wanting the show to continue, totally
doesn't make sense to me.
3. Remind me
over and over and over again that life really is grand
.
4.
Journaling
is something I love to do!
5. TP is
essential
.
6. I cleaned the refrigerator recently and I found
a lonely wedge of red onion
.
7. And as for the weekend, tonight I'm looking forward to
complete relaxation
, tomorrow my plans include
connecting with family or friends
and Sunday, I want to
effortlessly prepare for the week ahead
!
How's your Friday going? Click
here
to play along.